Matching your shoes and suit seems like an easy task, right? After all, you are doing it every morning before work. However the truth is, not everyone plays the game of colors quite right. The general belief that black being a neutral color goes with every other shade is absolutely wrong! Think of brown suits…black leather shoes look odd with this earthy color.
Black, brown and burgundy– these are the most popular colors for men's leather formal shoes in India. And the common suit colors are navy blue, black, gray and brown.
Nowadays, the business climate is more relaxed. But this also means greater chances of turning up in mismatched outfits. Wrongly chosen shoes can mar the appearance of your classiest suit. So, how to prevent wardrobe disasters? Keep reading to find out.
Navy Blue Suit:
Navy blue is a color that's associated with profundity, trust and responsibility. Owing to these highly valued qualities that navy blue represents, many companies prefer to incorporate it in their logo and workplace decor. For attending important interviews, wearing a navy suit is the safest option.
A navy blue suit has a calming appearance. Hence, the three main shoe colors, namely black, brown and burgundy, coordinate well with navy blue. They blend in smoothly with blue and the overall look is balanced and elegant.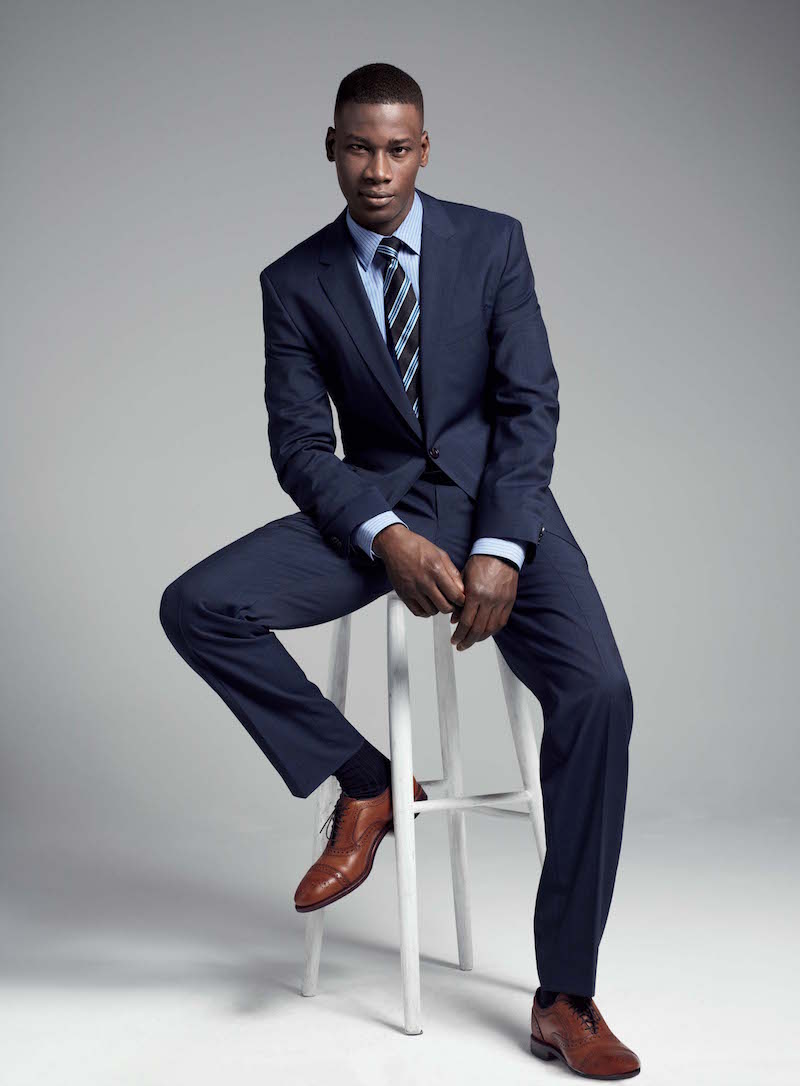 Depending on the occasion at hand, you can wear black shoes for a staunchly formal getup, brown shoes for a relaxed feeling and burgundy shoes for playful vibe!
Gray Suit:
Gray suits can be of two shades– light or medium gray and charcoal gray.
Light and medium gray are as flexible as navy blue. Hence, these shades pair well with brown, black and burgundy dress shoes. Lighter shades of gray are more laid-back; thus they are great for offices where dress codes are lenient. In this context, when you're wearing a medium gray suit, opt for black colored handpainted patina shoes, a white dress shirt and a smart tie– trust us, your look shall cast a spell on everybody!
Charcoal gray is a mature color and lends sophistication to the person wearing it. While black and burgundy complement this color, brown shoes look off with grey suits. Being a less formal color, it looks rather striking around the warmth of charcoal gray. If you wish to exude classiness, choose oxblood or black men's handmade leather shoes.
Brown Suit:
A Brown suit and a pair of black shoes just don't match. The shoes look oddly prominent. Interestingly, most shades of brown look great with brown suits. The key here is contrast. Don't wear shoes that are of the same shade as your suit. Opt for hues that create an eye-catching contrast, like tan. The color burgundy also helps draw a distinction.
Traditionally, brown suits are considered fit for academics. However, U.S. President Ronald Reagan altered this perception to a great extent by frequently appearing in brown suits.
Black Suit:
Black suits are remarkable, but rigid. They must only be worn with black formal shoes. A black suit isn't really meant for general wear. It must be reserved for black-tie events, strict office environments and funerals.
On that note, our advice for the average man is to own navy and charcoal grey suits. They are suited for most occasions.